Introduction
Enter Here
Opening Chapters
Hall of Mysteries
Pi Library
More Pi Library
Invisible Bookkeeper
Into the Depths
Room With No Name
Board Room
Tower of Pi
Hall of Records
Blinking Lights
Door to the World
Awe and Horror
The Rack! The Rack!
The Before Look
Chill Out
Going Postal
Shy Teenage Girl
News That Fits
Mothership
Self Portrait
Penguin Opera
Public Service
Public Service, Pi Style
Birth of a Computer Lab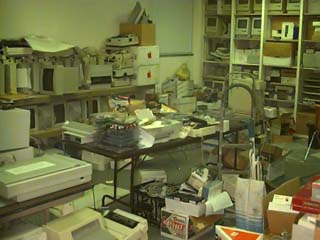 One Of The Tutorial Rooms
Yes, this is one of the tutorial rooms. While some detractors may claim that the room is in no shape for tutoring, they fail to appreciate Washington Apple Pi's acclaimed program in computer paleontology. Under the guidance of the field's greatest practitioner, budding computer paleontologists learn the constantly evolving elements of theoretical computer paleontology and -- for the very best -- the more demanding, rarified and rewarding mysteries of applied computer paleontology. For more information on this program, check out the Tuesday Night Clinic pages.
(Photo Copyright 1997 by Jon C. Thomason; taken with an Apple QuickTake 150 camera)