Meet Mac People
Washington Apple Pi has been helping people and their Apple computers and iPods, iPhones and iPads since 1978. Join online now. Or use this downloadable application and renewal form.
Washington Apple Pi Events
November 2, 2013: Clubhouse Saturday
November 9, 2013: Clubhouse Saturday and Video editing workshop
November 16, 2013: Clubhouse Saturday
November 21, 2013: Afternoon Learners Special Interest Group
November, 23, 2013: General Meeting - Apple visits Washington Apple Pi
November 28. 2013: ♨ Thanksgiving ♨
December 7, 2013: Clubhouse Saturday
December 14, 2013: Video editing workshop and Board of Directors Meeting
December 19, 2013: Afternoon Learners Special Interest Group
December 21, 2013: Clubhouse Saturday
January 25, 2014: General Meeting will be in Maryland
Recent video podcasts and presentations: OS X Utilities, Rob Pegoraro, iOS Health Devices, Google Earth, Internet Vacation Planning, Common iCloud Problems, Landing Pages, 1Password password management, LastPass password management, iPhone 5, Mountain Lion Security
⌘ Note: in case of inclement weather, Pi activities follow the closure schedule of local school districts.
New address: Pi Clubhouse and SIG meetings will be held at Cedar Lane Unitarian Universalist Church, 9601 Cedar Lane, Bethesda, MD 20814, Room 30-31. Map
Journal Highlights
Fall 2013: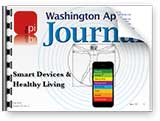 Potentially Harmful Asteroids! (Pi comic)
Your Mac and your health
Fitbit for fit activities
Withings Blood Pressure Monitor
Take Control of Your Online Privacy (review)
How I upgrade to a solid state drive and lived to tell the tale
"Memory... all alone in th emoonlight..." (comic)

Of Interest

Need to change your E-mail preferences? Want to download a copy of the Washington Apple Pi Journal? Forgot your membership number? Forgot where you live? Want to send feedback to the evil overlords who run Washington Apple Pi? Want to talk to an expert on scripting? Need launder funds through Grand Cayman? You can find all but the last at the new connect.wap.org.
Stay in touch. Staying informed is easy: sign up for the Pi Announce list, with low carbs, no fat, and no added sugar.
Need a Mac-friendly dial-up service? Subscribe to our 56K Explorer service, complete with your own Web space and IMAP-compatible E-mail. You can either read about it here or you can see how to configure your system.
Apple /// DVD-ROM now in the public domain.
Tuesday Night Clinic: The Tuesday Night Clinic reopened to provide Macintosh support September 2010 with a new sponsor, day, and location. The MacReycleClinic (www.macrecycleclinic.org) is the new sponsor. The clinic moves to Monday evenings at the Marvin Memorial Church, 33 University Blvd. East in Silver Spring, MD. For information about tax deductible equipment donations: e-mail office@macrecycleclinic.org or contact them via reclamation@wap.org. More information on the MacRecycleClinic.
Clubhouse Saturdays, a new way to aid members helping members.
TCS User Guide: a guide in Adobe Acrobat format (2.7 megabytes) on how to use the Pi's forums, the TCS.
Video tutorials on Web publishing, iChat instant messaging.
Pi Store. Don't overlook our online store. You can purchase Pi Fillings CDs, and join or renew your Washington Apple Pi membership.
Instructions for member Web sites: basic instructions for managing your Pi member Web site.
How to use your Mac: from the Journal