August 2022
Podcasting and Shortcuts
August 27, 2022, 10 a.m. to 12:30 p.m. ET.
Note: this will be a virtual meeting via Zoom.
Adam Christianson is an Apple enthusiast who has been the host of the popular Maccast (https://maccast.com) podcast for the past 17 years. One of podcastings pioneers, Adam will discuss the early days of podcasting and its evolution into the media format it has become today.
In addition, Adam will be providing an introduction and overview of Apple's Shortcuts. Shortcuts is a great utility and tool for automating tasks and workflows on your Mac and iOS devices.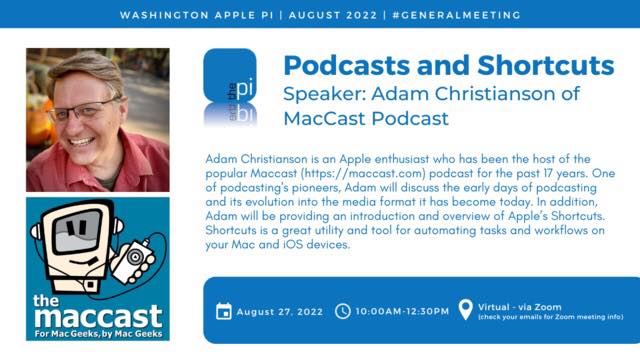 The Zoom meeting invitation will be posted on the Pi's conferencing system, the TCS, and sent out to members via Email. Please check your Zoom profile online to be sure it contains your full name, because for security reasons, we can't let anyone in without their full name.
Important: If you use the Zoom app (instead of a web browser), check in advance that you have version 5.11.9 or better.

We'll start with a Q&A, so please send us any questions for us to queue up for the panel.

Please remember to use the Attendance Check-in link, https://wap.org/attend
---