General Meeting September 2023
September 23, 2023, 10 a.m. to 12:30 p.m.
Note: this will be a virtual meeting via Zoom.
Join Washington Apple Pi in welcoming an Apple representative to give us an update on All Things Apple, as of September 2023. The Apple representative will not talk about whatever it is that Apple may announce next month, though I do hear the Sonoma wine country is on the mind of many Apple engineers.

Coming in November
Andy Ihnatko, technology columnist, will talk about how the Mac world has changed since his move to Massachusetts.
Once upon a time, Pi members typed in programs printed on computer printouts. Today members download programs from across the Internet. One thing both eras have in common: there is always more to learn, to share, and discover. Join or renew your membership as we chart a path path to the future.
Wanted: a few good Journals!
Yes, we really do want these issues, if you have them.
The Pi has posted a massive library of Washington Apple Pi Journal issues from 1979 to 2016, with thousands of pages of information on everything from Apple II interrupts to adding ringtones to an iPhone. If you have any of these issues and wouldn't mind giving them to us so that we could scan and post them, please write to webmaster@wap.org.
May 1981, Volume 3, number 5
June 1981, Volume 3, number 6
July 1981, Volume 3, number 7
August 1981, Volume 3, number 8
September 1981, Volume 3, number 9
October 1981, Volume 3, number 10
November 1981, Volume 3, number 11
December 1981, Volume 3, number 12
Video of past meetings, plus How To videos, and testimonials. The full list is tucked away under videos.
For questions or feedback, email office@wap.org, or participate in the Apple Pi interactive email - a reminder to go here to join:
https://applepi.groups.io/g/main
A reminder that the Pi is:
Thanks for being members of the Pi!
We've posted capsule reviews of several programs designed to help you clean up clutter on your Macintosh.
Review of 2019
Meanwhile...
Meanwhile, a photo of a mug: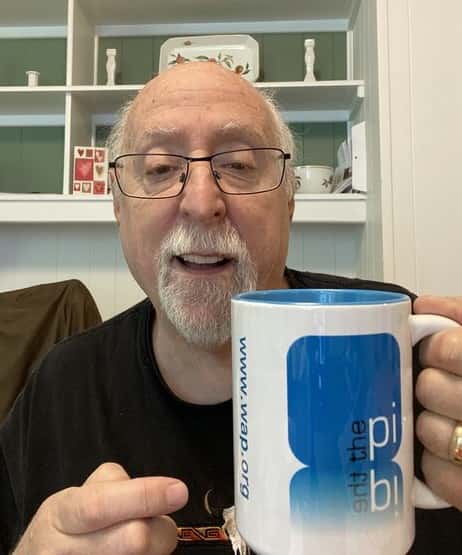 Ceramic version of Washington Apple Pi mug. A MUG (Macintosh User Group) is not normally cast in ceramic, and normally avoids water due to unfortunate side effects involving liquids, electronics, and electricity, but this mug is hydrophilic. Our highly photogenic model is former Wall Street Journal technology columnist Walt Mossberg.
A video review of the 2018 General Meeting presentations in (slightly more than) 20 minutes.
Also, check out this terrifying video on electronic mail, with our Email Compendium, Volume 1. This contains lots of snippets from the General Meeting podcasts, focusing on the subject that brought the most fear and horror to the Q&A session moderators.