For those interested in computer history, the Computer Show and Sale is an excellent place to indulge yourself. This gentleman, for example, offered a vast array of Macintosh computers, ranging from the first color Mac IIs to the dawn of the Power Macs.
Photo by Lawrence I. Charters using a Kodak DC50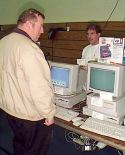 Many of those selling goods were veterans of past computer shows and, in addition to offering anything from components to complete systems, also managed to find some of the original advertising. This table, for example, sports one of the original Iomega Zip POP (Point Of Purchase) advertisements. Often, the original shipping containers, in mint condition, were included with the equipment.
Photo by Lawrence I. Charters using a Kodak DC50

Tom Witte always managed to attract a crowd with periodic drawings for door prizes. His ability to be heard over the noise of the crowd is legendary.
Among the drawing winners were: Andrew Rodrigous, Sandy Robinson, R. Butler, Anthony Rice, Neil Schreck, Denis Orsmger, Attila Horvath, Andy Wilson, J. VonVeltar, Elmer Flamer, Robert Gray, Jennifer Halse-Collins, Marshall Gruber, Pat Fauquet, George Walker, Nancy Beckler, Scott Hartwick, Joyce E. Gray, Philip Rowe, Bernard Chern, Connor Srauss, Dan Fortnum, Lois Bostrom, Bob O'Brien, Noel Paige, Bill Dobbin, T. Popkin, Miles Weissman, Lou Dunham, Scott Hartwick, May Keene, and Elaine Kinard
Photo by Lawrence I. Charters using a Kodak DC50

Outside the show hall (which normally is the gymnasium for Northern Virginia Community College in Annandale, VA), David Essick takes a turn at staffing the refreshments stand.
Photo by Lawrence I. Charters using a Kodak DC50
Washington Apple Pi had several tables near the entrance. Some of the tables offered software on CD-ROM or diskette, or assisted with new or renewed memberships, or T-shirt and polo shirts, while others were devoted to the famed "Computer Checkup." The tables were always busy, and near the end of the day the volunteers were beginning to suffer from lack of food and drink (neither of which were allowed inside the show).
Photos by Lawrence I. Charters using a Kodak DC50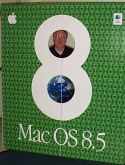 Lawrence Charters takes a break from the "Computer Checkup" table to audition as a model for the Mac OS 8.5 cover. (Hope he doesn't have his heart set on a modeling career...)
Photo by Scott Poit using a Kodak DC50
Some of the volunteers at the Computer Show and Sale include: Bob Whitsel, Lawrence Charters, Dale Smith, Pat Fauquet, Don Essick, David Essick, Lorin Evans, Blake Lange, Ron Evry, Dave Weichert, Grace Gallagher, Jim Ritz, Dave Ottalini, Lou Dunham, Jennifer Elsea, David Harris, Beth Medlin, David Mudd, Miles Weissman, Bob Russell, Scott Poit, Paul Simon, and Will Byrd