June 2020
Rob Pegoraro Zooms into the Pi
June 27, 2020, 10:00 a.m. to 12:30 pm.
Note: this will be a virtual meeting via Zoom.
We're happy to welcome Rob back for his traditional June return to the Pi. Pi members love his irreverent look at technology and tech trends.

Rob says: "since we'll be talking right after WWDC, let's start with unpacking Apple's news from there. Then home connectivity, both in terms of broadband to an abode and WiFi within it, would be a great topic. And I'm now working on a white paper for O'Reilly Media about contact-tracing apps, so I should be able to share some early findings by then."

We're still working out if we can do some kind of virtual glam, so useful stuff collected by Rob in previous conference travels can make it into the hands of Pi members!

The invitation to Saturday's Zoom meeting was posted on the Pi's conferencing system, the TCS, and sent out to members via Email. Please check your Zoom profile online to be sure it contains your full name, because for security reasons, we can't let anyone in without their full name.

We'll start with a Q&A, so please send us any questions for us to queue up for the panel.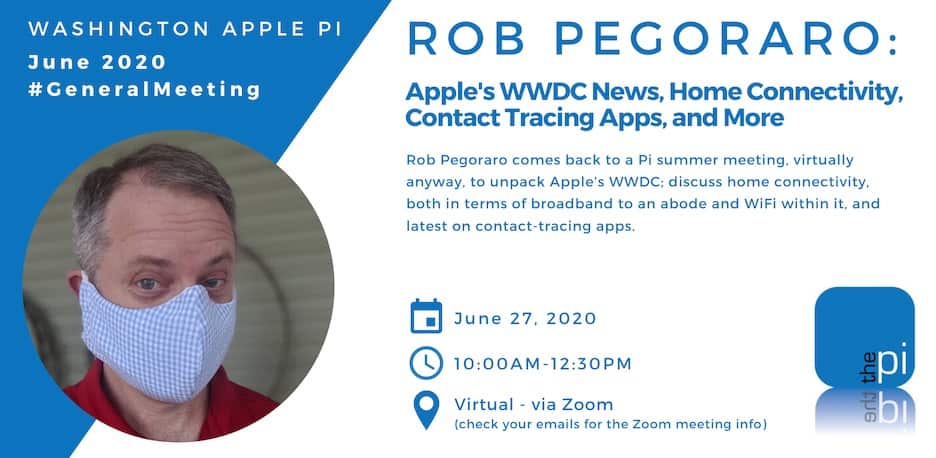 We are going to try and stream the meeting through the Pi website: https://www.wap.org/live/
Please remember to use the Attendance Check-in link, https://drive.google.com/open?id=1J1v4kDYa4_RYpUfaBt8JXufn0byPU4XroatG9aYycEU
---