May 2019 General Meeting
Mark Johnson on security and smart locks
May 18, 2019, 9:30 a.m., Sully Government Center in Chantilly, in the James McDowell Room
This is a new venue, located at 4900 Stonecroft Blvd., Chantilly, VA 20151. Map
Security is in the news every day, with stories of security compromises of banks, grocery chains, government agencies, celebrity social media accounts, and endless other individuals and institutions. But there is an older, more basic form of security: physical security. Does the lock on your front door really protect your home? And if someone does get in and steals your computer, do you have it password protected and encrypted?
May's speaker will be Mark Johnson, co-owner of of The Flying Locksmiths franchise in Chantilly, VA. A twenty-six-year veteran of the U.S. Coast Guard, he specialized in safety, security and environmental protection. After leaving the Coast Guard he helped establish the Maritime and Land Security Office at the newly formed Transportation Security Administration where he served as the Deputy Assistant Administrator. He then became a partner at C&H Global Security, an international transportation security consulting firm. C&H was subsequently purchased by SureID, Inc., an identity management company providing background checks and high assurance credentials to contractors to U.S. military bases. Mark served as SureID's Vice President of Strategic Accounts. A graduate of the U.S. Coast Guard Academy, he also earned a Master's Degree from the University of Southern California.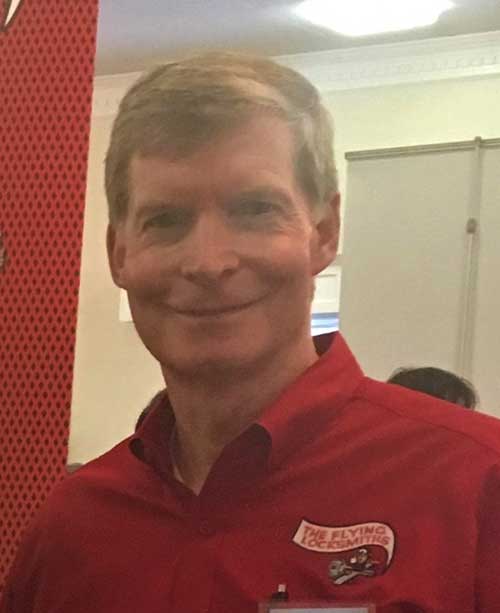 Mark will address some common security questions:
What actually happens when you put a key in a lock?
What do some of the door hardware items look like and their purpose?
Changes in the locksmith world due to technology
Why did I get locked out of my house, or how to save $100?
Some stories of the things locksmiths have encountered
Show and tell: locks and door hardware
Q&A
In an age where you can unlock your car or your front door with your phone, wouldn't you like to know a little bit more about how this works, and if it makes you more -- or less -- secure?
We will start with our usual Question and Answer session, in which more questions will be answered than asked, if history is any guide.
If there is adequate bandwidth, and it isn't entirely used up by the attendees and their iPhones, iPads, iPods, etc., we will stream the meeting over Zoom. https://zoom.us/j/6107851814
---