General Meeting:
The iPad: Cool Features, Cool Apps
November 20, 2010, 9:30 a.m., George Mason University
Note: the November General Meeting will be held on the third Saturday of the month to avoid any conflicts associated with the Thanksgiving holiday. Happy Turkey Day!
The iPad is rapidly becoming the ubiquitous mobile device, used on news programs, carried on the subway, and smuggled into the workplace to thwart restrictions on workplace computing. And so it is time to look again at this exceptional mobile computing device. The iPad's capabilities expand with each new app, so we'll update everyone on some apps that stand out from the tens of thousands filling the iTunes App Store.
Lawrence Charters, Larry Kerschberg, and Roy Wagner will alternate as presenters. These three gentlemen will provide comparisons, features and demonstration of some iPad apps that they find useful. Lawrence will be offering a comparison between the iPad and the Kindle, Amazon's trailblazing electronic book reader. Larry will demonstrate how to stream Netflix content and use the VGA port for Keynote presentations. Roy will be covering reading on the iPad and explain how to add PDFs, magazines, and newspapers to the iPad as well as use RSS readers.
The meeting will be held on the George Mason University campus in the Enterprise building, Room 178.
Check back closer to the meeting date for any updates or changes to the meeting.
Pi General Meetings are planned and executed by Pi volunteers. Please, consider helping at these events, as well as with other Pi activities. Volunteers, welcome!
George Mason University Essential Information
Address: 4400 University Dr., Fairfax, VA (near Rte 123 and Braddock Road)
Directions and Map: http://www.gmu.edu/welcome/Directions-to-GMU.html
Interactive map of campus: http://eagle.gmu.edu/map/fairfax.php
Important Parking Information:
Free parking is available in Lot A, while the parking in Sandy Creek Parking Garage is a pay-for-parking facility. Sandy Creek parking is more convenient and closer, and the Pi will continue to subsidizing that facility's parking fee by providing validation tickets for $3.00.
Directions to the meeting location from Lot A
Park as close to Mattaponi River Lane as possible, then walk north along that road toward the main campus buildings. The sidewalk route takes you directly to the side of Enterprise Hall.
It is a good five to seven minute walk from Lot A and up a slight incline. We will be using a golf cart along the route, to offer rides to those who want or need a lift.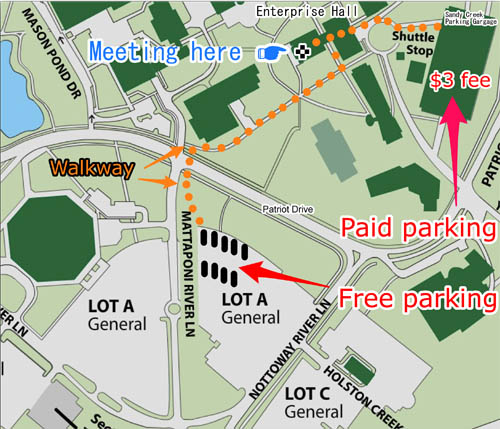 ---