November 2019 General Meeting
Extended Reality (XR) tools at George Mason University
November 23, 2019, 9:30 a.m., George Mason University
The meeting will be at George Mason University, Johnson Center Collaborative Learning Hub, Third Floor, Room 311. See map, below.
See photos of the events, below
In case of inclement weather or other emergencies, the Pi follows the same schedule for closures as the Montgomery County school system or, in the case of General Meetings, George Mason University.
For our November Meeting, the Pi will meet in the lab of Instructor Technologist Jim McLean. His lab at GMU includes VR (Virtual Reality) and AR (Augmented Reality) demos, and includes 3D Printing, and 360° Video production.
At George Mason University, immersive learning is part of the fun at our Immersive Technology Lab: Th3 BuilD! Embrace your inner nerd for a hands-on encounter with some of Mason's resident XR technology tools. Get inspired by discovering new ways to explore, discover, and create with virtual reality, augmented reality, 360 video, and 3D printing.
Here's our plan for the meeting:
9:30 am - 10 am Q&A with initial AR app (s) demo.
10:15 -10:25 Club News - this'll be a quickie
10:25 - 10:45 Coffee Social
10:45 - 12:30 - Jim McLean Introduction to the tech in his lab; sample demo activity, with attendees moving along and trying things; then one or more demos in depth.
Download these apps
If you download these apps ([prior to attending the meeting) to your iPhone, it will save time at the meeting. Here's Jim's suggestion for preparation for attendees:
Blippar: https://apps.apple.com/us/app/blippar-the-ar-browser/id410604563

Expeditions: https://apps.apple.com/us/app/expeditions/id1131711060
Within: https://apps.apple.com/us/app/within-vr-virtual-reality/id959327054
Note: we will try to stream this meeting using Periscope to the Pi's public twitter account. So around 9:30 am, go to https://twitter.com/pi_org.
Jim McLean is an experienced Instructional Technology consultant with a career working in higher education. He is skilled in media management and distribution (Kaltura Media), Content Management Systems (Drupal, Wordpress, CommonSpot), Learning Management Systems (Blackboard/Sakai/Google Education), IT/Enterprise Service Management (EasyVista, TeamDynamix) e-Learning, Instructional Design, XR/MR/VR/AR applications and development, 360° video production, photogrammetry, 3d design and FDM printing, and live video streaming (LiveStream, Kaltura Live, OBS/YouTube).

This meeting will be held at George Mason University (GMU) at the Johnson Center Collaborative Learning Hub, Third Floor, Room 311. This building is # 55 on the map below, northeast of Enterprise Hall (#17) and north of the Shenandoah parking deck (#42) on Sandy Creek Way.
Here's our Attendance Check-in link, https://drive.google.com/open?id=1J1v4kDYa4_RYpUfaBt8JXufn0byPU4XroatG9aYycEU
---
Video of a virtual 3D objects being manipulated by hand, shown on an iMac screen (1920 x 1080, MP4, 9.7 MB)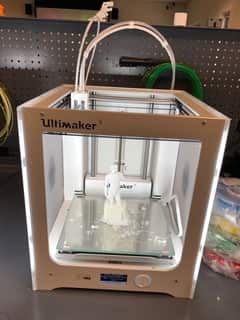 3D printer demonstrated at the meeting.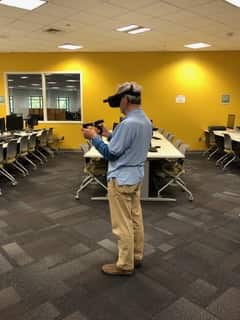 Pi member Roy Wagner tries on an Oculus VR headset, using a touch controller to manipulate objects in virtual space.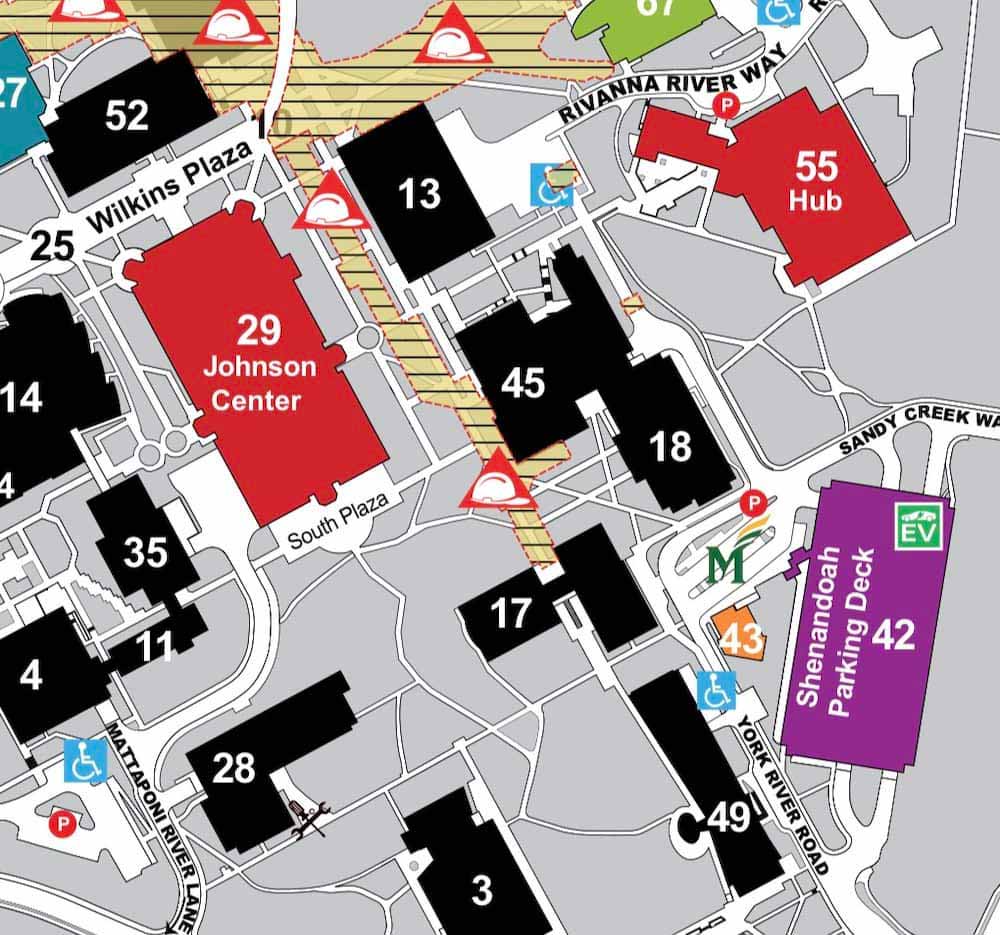 Enterprise Hall, our normal meeting place, is #17. Click on the map for a much larger version of the George Mason University campus map.
George Mason University Essential Information
Address: 4400 University Dr., Fairfax, VA (near Rte 123 and Braddock Road). Directions and Map: http://www.gmu.edu/welcome/Directions-to-GMU.html
A whole bunch of George Mason maps: http://eagle.gmu.edu/map/fairfax.php
Important Parking Information: Two Options, Paid and Free
The Shenandoah Parking Garage (formerly the Sandy Creek Parking Garage because it is located on Sandy Creek) is fee-based facility. It is more convenient and closer to the meeting location. The Pi will subsidize the facility's parking fee by providing vouchers for donation request of $4.00.
If using the parking garage, park in Visitor's area; i.e., the lowest level. Take the elevator to the third floor (Campus Level), and exit along the sky bridge.
After the meeting, exit the garage using the exits marked for Validated Tickets. Your parking ticket goes in first. Then the validation ticket goes in next. If you have any problems, there is a speaker box for calling the parking lot attendant at the checkout point.
Free parking in Lot A
Park as close to Mattaponi River Lane as possible, then walk north along that road toward the main campus buildings. The sidewalk route takes you directly to the side of Enterprise Hall, on your left. The meeting room is located on the second floor, accessible via outside stairs or via an elevator on your right as soon as you enter the building through the doors behind the outside stairs. We will endeavor to have signs posted to help guide you to the right location. It is at least a five-minute walk from Lot A and up a slight incline. We will be using a golf cart along the route, to offer rides to those who want or need a lift.
Handicapped Parking: There are three handicap parking spaces next to Enterprise Hall that can be used by members, on a first come first served basis. Have your Handicap Sticker showing on the dashboard or on the rear-view mirror.
---