October 27, 2007 General Meeting:
Using Your Mac in the Stock Investing Process and an iPhone Update
By J. Richard Allen and friends
Fifty hardy souls braved the rain and cool wind to attend the October General Meeting, to hear long-time Pi Member Etana Finkler described her experiences as an investor using her Mac. Trinka Reddie, Director of the DC Chapter of Better Investing, also contributed her perspective to Etana's presentation. In addition, Pi member and Vice President for Programs, Pat Fauquet provided an update on recent iPhone developments in a breakout session. The Pi members who attended were amply rewarded with useful information and a beautiful, sunshiny afternoon.
Questions & Answers
The meeting opened with a Q&A session moderated by Lawrence Charters. One of the first questions concerned upgrading to Mac OS X 10.5, "Leopard." Lawrence strongly recommended using Migration Assistant with standard settings. Migration Assistant is found in the Applications/Utilities folder.
Another question involved an Epson R300 printer, which required several replacements after multiple maintenance messages. This situation frequently occurs after extensive printing. As a general reference, several members recommended http://www.fixyourownprinter.com/as a place to start when trying to solve printer problems.
Another question involved a two-month old Mac Pro, which could not be roused from Sleep. The Mac Pro was plugged into a surge protector, and speculation grew that the surge suppressor might be draining the internal battery, causing the Parameter RAM to be lost. With the loss of the Parameter RAM, the Mac Pro could not boot up because the Startup Drive was no longer correctly specified. Tip of the Day: get an Uninterruptible Power Supply (UPS) and plug all your important operating equipment; i.e., computer, monitor, external hard drives, Airport, and the like into it. However, do not plug surge protectors or printers into a UPS. Be sure to get a UPS that will support all the equipment for the length of time you require to finish up and shut down.
Another question dealt with the procedure for updating from Mac OS X 10.3 Panther, to Mac OS X 10.5 Leopard. The first step is to make sure that the Mac is capable of running Leopard. Then use the Leopard DVD's version of Disk Utility to verify or fix the startup disk and repair permissions prior to installing Leopard. Then perform an Archive and Install of Leopard.
Another question involved a Mac mini, which had just received an operating system installation and would no longer recognize the owner's password when the owner tried to install updates to it. The solution was to use the installation DVD to reset the Mac mini's password.
The final question involved a G3 iMac., The "q" key worked for some user accounts but not for others. The problem resulted from Preferences issues. One solution is to hold down the CMD+OPTION+P+R keys simultaneously while rebooting.
Investing Fundamentals and My Mac
In her presentation, Etana described how she began investing in stocks after realizing that she worked hard for her money and decided that she would like her money to work hard for her. As a novice, she thought about investing in Iomega and Microsoft in 1985 and watched as the two companies performed differently over time. She knew from general market returns on things like the Standard and Poor's Index of 500 stocks (S&P 500), Treasury Bills, and government bonds that stocks tended to grow substantially more than the other investments while realizing that some bonds and cash were necessary for those times when the stocks were temporarily down.
Seeking education and enrichment, she and some friends founded an investment club to delve into the world of investing at a deeper level. Their goal was to have an average return of 15% a year, which is a little better than the S&P 500 (10.3%) and would double their money every five years. They also wanted to avoid pitfalls such as unrealistic expectations, depending on the opinions of others rather than their own knowledge, speculating and trading rather than value investing, trying to time the market, and paying too much for a stock.
To this end, Etana took advantage of the education offered through Better Investing, formerly known as the National Association of Investment Clubs. The basic principles guiding the investment process are: invest regularly; reinvest dividends and income; own businesses that are consistently growing their sales, earnings, dividends, and value, and investing company assets profitably; don't pay too much for the stock; and prudently diversify.
Etana then turned her focus to the CHURR software as an aid to identifying stocks with a track record exhibiting the characteristics of excellent management, growth in value, relatively moderate risk, and a reasonable price. The CHURR Stock Investment Guide (SIG) graphs of such companies show ascending, roughly parallel lines for sales, earnings, and price when graphed on a logarithmic scale. Johnson & Johnson Company exhibits such a graph between the years of 1994 and 2003. (For the technique to be effective, at least five years of data are required.) The SIG has five parts, which help an investor assess quality of management, quality of growth, reasonableness of price, risk, and potential return.
At this point the smell of the coffee and doughnuts and the lure of conversation with our own homegrown Mac wizards led to a scintillating coffee break.
Following the coffee break, Etana continued by integrating the data from the Manifest Investing website with the CHURR SIG analysis software. She demonstrated how the data on a stock can be instantly downloaded from a website into the SIG software, thus yielding a graph instantly. The approach taken at Manifest Investing takes the historical data a step further and focuses on overall portfolio decisions based on projected future performance of stocks. Manifest Investing also focuses on ranking the quality of stocks, projecting annual returns based on past history, and determining an advantageous price for purchasing a stock.
Etana demonstrated how measures such as projected annual return, quality, earnings-per-share stability, financial strength, projected P/E ratio, growth and so forth could be used to determine which stocks to add to or subtract from a given portfolio. She also demonstrated a feature that compares and ranks companies in a given industry. "Dashboards," "Portfolio-based Decision Making," stock screens, and chronicles were other features noted.
After the presentation, both Etana and Trinka Reddie, Director of the DC chapter of Better Investing, answered questions from many of the members. Thanks to Etana and Trinka we all learned a lot about how to use our Macs to aid us in making wise investment decisions.
Web sites mentioned:
iPhone Update
Pat Fauquet led iPhone aficionados in a discussion centering on recent happenings involving the iPhone. Interest was high and the session was Standing Room Only as Pat gave everyone some tutorial help and purchasing advice. The tips and tricks of using an iPhone were also well covered in the October Pi Fillings CD with the inclusion of a host of podcasts and MacNotable recordings.
Business Meeting
After welcoming new members and visitors, Pi President Bob Jarecke reviewed a proposed amendment to the Pi Bylaws designed to streamline the procedure for establishing Special Interest Groups. Neil Ferguson moved to accept the amendment, Diana King seconded the motion, and it was subsequently voted on and passed unanimously. The Bylaws are posted in full on the Pi Website; the amendments were to Article X:
http://www.wap.org/about/pibylaws0710.html
Bob covered several other important items during the business meeting. He pointed out that the latest edition of the Journal should be showing up in everyone's mailboxes ahead of the publication date and this was a testament to the sterling efforts of the Publications Committee. He noted that the Pi is now conducting an informal contest for photos to be used on the cover of the Journal. He also mentioned that a fourth Pi survey was soon to be conducted and it will cover Pi Benefits and Services.
Bob then informed the members that the Pi offices might have to move because our current landlord has sold the building. He asked everyone to get involved and scout around for potential locations. He announced that a Contingency Committee has been set up to deal with this significant event and that, while location is important, it would be somewhat less of a factor than cost.
Bob then gave an update on how the Pi Logo Competition was progressing. He noted that he was anticipating a visit to the Montgomery County Community Campus where an entire graphic arts class has been assigned the creation of a Pi logo as a class project. The students will automatically be included in the contest, and Bob will attend their class and listen as the students give a presentation about their creations. Look in this issue of the Journal to see the official selection!
After the announcements, Bob moved on to the drawings. These included several investment related prizes such as a one year subscription to the Manifest Investing Website, two half-day courses from Better Investing, a copy of the CHURR Stock Investment Guide software and three books on investing. These prizes were obtained by Etana and are worth over $250. Thank you, Etana! Those who are especially grateful are the winners of the various prizes: Tom Carlson, Richard Allen, Don Fortnum, Gene Haddon, Jim Little, Dick Sanderson, and Thomas Talley. As another successful meeting ended, the members left wiser about investing in stocks and a bit smarter about iPhones.
One More Thing
During the meeting, Apple's product design engineering ingenuity was inadvertently demonstrated as the presenter's foot tangled in the power cord of a MacBook and unceremoniously yanked it from the portable Mac. As the magnetic coupling detached, the Mac remained serenely on the table and neither the Mac nor the presenter were injured in any way. Is this great design or what? Go Apple!
Original Program announcement
Double Header:
Investments, Tracking & CHURR Stock Investment Guide;
The iPhone at 4 months and counting!
Luther Jackson Middle School, Falls Church, VA
9:30 a.m. to 12:30 p.m.
Our October meeting will begin with a presentation by Etana Finkler of the now-defunct Investors SIG. She will talk about her history as an investor, investment philosophies, investment clubs and the CHURR Stock Investment Guide software.
After a short break, members interested in Investment tracking via the computer will continue with Etana while members who want to know more about Apple's new iPhone will move to a second meeting room to take a look at the iPhone, the Web sites, software and usage techniques.
The meeting will begin with a Q&A session and there will be an unConference coffee break with the latest in current topics.
The meeting will begin at 9:30 and will wrap up between 12 and 12:30. The address is 3020 Gallows Road, Falls Church, VA. Check out the directions and location map at link below.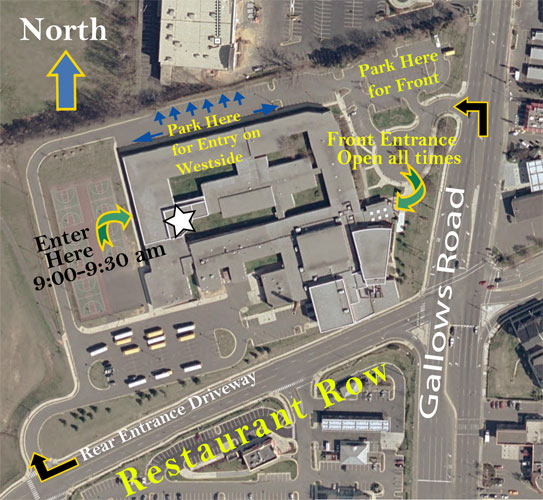 Notes:
Questions: Contact the WAP office at (301) 984-0300.
The meeting, open to the public, starts at 9:30 a.m.
---