General Meeting:
Amy Wooden and macUpgrades
October 23, 2010, 9:30 a.m., George Mason University
October's General Meeting will feature Amy Wooden, the Chief Operating Officer of macUpgrades, the famed Apple dealer in Bethesda. Amy has years and years of experience with Macs and Apple products, and she will be talking to us on a variety of topics based on submissions by Pi members beforehand. Did we get yours? Send questions in advance to office@wap.org.
Topics suggested so far include the care and feeding of laptop batteries, transferring photos in iPhoto from one Mac to another, file management, including searching for lost files, and lots more. Submit your questions prior to the meeting or just come and raise your hand. Amy should prove to be another great source of answers to all of your questions on using the Mac and other Apple products.
This meeting will take place at our usual watering hole — Room 178 of Enterprise Hall — on the GMU campus in Fairfax, VA. Go to the Pi Web site link below for details and any updates.
Check back closer to the meeting date for any updates or changes to the meeting.
Pi General Meetings are planned and executed by Pi volunteers. Please, consider helping at these events, as well as with other Pi activities. Volunteers, welcome!
George Mason University Essential Information
Address: 4400 University Dr., Fairfax, VA (near Rte 123 and Braddock Road)
Directions and Map: http://www.gmu.edu/welcome/Directions-to-GMU.html
Interactive map of campus: http://eagle.gmu.edu/map/fairfax.php
Important Parking Information:
Free parking is available in Lot A, while the parking in Sandy Creek Parking Garage is a pay-for-parking facility. Sandy Creek parking is more convenient and closer, and the Pi will continue to subsidizing that facility's parking fee by providing validation tickets for $3.00.
Directions to the meeting location from Lot A
Park as close to Mattaponi River Lane as possible, then walk north along that road toward the main campus buildings. The sidewalk route takes you directly to the side of Enterprise Hall.
It is a good five to seven minute walk from Lot A and up a slight incline. We will be using a golf cart along the route, to offer rides to those who want or need a lift.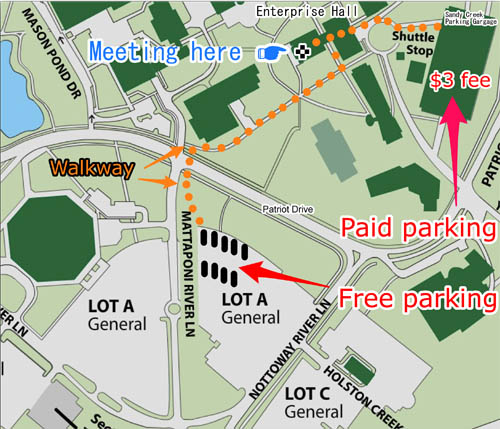 ---