Arcola House
by Bob Mulligan
Washington Apple Pi Journal,
reprint information
The Arcola House is a Montgomery County Senior Citizen home for residents who are from every walk of life and most have a disability that prevents them from moving about as well as the rest of us. Recently Pi member Bob Mulligan installed two of Apple Pi's computers, Power PC Motorola StarMax "clones," for the use of the residents.
Bob has been holding lessons for for the interested residents but it has been slow going. Some of the students can not get the feel of using a mouse and give up trying to use one of these "new fangled" gadgets.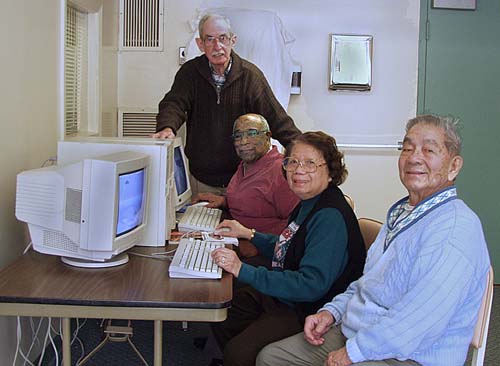 The StarMax Macintosh clones are getting a workout from the Arcola House students. From left, instructor Bob Mulligan with William Neclos, Bui and Anh Nguyen.
A few others were determined to learn and are progressing. One gentleman was clicking the mouse like he was driving nails, knocking the mouse arrow off the mark. His arm was getting tired. He is now learning how to relax and is now ready to start using the word processor. One lady caught on right away and is learning how to type.
The house counselor is making plans to eventually get the Macs on the Internet but we have more teaching to do first. Bob could use one or two Pi volunteers to help with the teaching.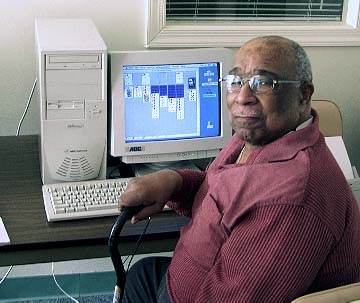 William Neclos, Jr., of Arcola House is learning to use a computer.
When he first started a number of residents showed up and some became impatient and walked away so the best method is to teach one student at a time. Everything will be done on an appointment basis. The location is at the junction of Arcola and University Blvd. in Silver Spring.
If you are willing to help with this interesting project, email Bob Mulligan at Bob@igotmac.com