On the Bleeding Edge
by David L. Harris
Washington Apple Pi Journal, pp. 19-23, May/June 1999, reprint information
In 1987 I started with a Mac Plus. That was replaced in August 1994 by a refurbished Performa 475, in recent times operating with System 7.5.5 and a 730-MB hard drive. You could not say I have been on the cutting edge of technology. But I got into my head, with encouragement from fellow Pi members and a recent general meeting with Apple, to buy a new Blue & White G3. This is one of the new Macs lacking some old familiar technologies such as a floppy drive, serial ports (for printers, modems, and such) and SCSI ports. (New technologies include USB and FireWire.) In addition, it came with MacOS 8.5.1. So the transition promised to be an adventure. Would I bleed? Here is what happened.
I ordered the low-end 300 MHz G3 via telephone on a Tuesday. I had planned to order it with an optional added SCSI card, so I could run my old SCSI peripherals (scanner and Zip drive) and maybe add an internal SCSI hard drive. Apple said no, that SCSI cards were not immediately available, and that I could not order one and wait. I did not avoid sales tax, either; Apple adds your local tax to the bill. To cut costs I had it shipped via ground. When the G3 shipped I got a confirming e-mail from Apple telling me when it would arrive. Later I obtained a UPS tracking number, and tracked its travels on the UPS Web site (http://www.ups.com/tracking/tracking.html). This was not particularly helpful, because its whereabouts were noted while in transit only at a few points. The last entry (on a Friday) was that it was in Illinois; it arrived the next Wednesday (as promised by Apple) and the next entry on the UPS site confirmed its delivery. Nothing in between.
The G3 is a mini-tower, and is larger and heavier than I had pictured. I had trouble finding a place for it with my limited available space. Of course, I did find a place! It sits beside my 14" NEC monitor that is still sitting on top the Performa. I had to find a way to transfer files from the Performa to the G3 -- remember, no floppy, no Zip drive (for now).
Obtaining an Ethernet card for the Performa, I spent a couple of days learning the basics of networking, which I've never had to master before. The built-in AppleGuide helped here, as did the written manual for the Performa, which contains much more help than manuals do these days. I bought a 10Base-T Ethernet hub and connected the Performa to the G3 (which has 10/100Base-T built in). Once I had made the connection, I could begin to transfer files from Performa to G3. Since I have only one monitor, this required booting the Performa without monitor, using its ADB keyboard to shut it down properly when done (with the keyboard power key and then the Return key).
Although the G3 can also use an ADB keyboard, and I had a spare bought for $5 at the December Garage Sale, I had no extra ADB cable, and had to use the iMac-like USB keyboard and mouse that came with the G3. All this with little desk space to begin with. The USB keyboard and mouse are cute, but like others I found the round mouse hard to orient, and, since I often use my computer in the dark (except for illumination from the monitor), using the black-keyed USB keyboard full time was less than satisfactory. So there was a lot of keyboard and monitor switching until I got another ADB cable. I also had to use the monitor with the Performa to get anything off of my many floppy disks before I could Ethernet their files to the G3. More cable swapping. Not a desirable chore, what with my bad back, and all the connections being on the backs of the Performa and G3 (unlike the side connections on the iMac).
I mentioned above that the G3 lacks serial ports. I was fortunate to get a Keyspan USB-to-serial adaptor (they were in short supply, what with all the other G3 and iMac owners trying to get them), which has two serial ports, one for printer and the other for modem. I checked first to make sure it was compatible with my external US Robotics modem and HP DeskWriter 550C printer. The adaptor plugs into one of the two USB ports on the back of the G3, and comes with software (on a CD; the G3 has a fast CD drive built in) to set it up. I found setup quite easy for both printer and modem access.
After getting most of the older (often shareware) software and files that I wanted transferred from the Performa to the new G3, I started seeing how much of it would work in the transition from System 7.5.5 to OS 8.5.1, with the added factor of a multi-gigabyte hard drive formatted as HFS+. I went to the Version Tracker Web site (http://www.versiontracker.com/) to see what were the latest versions (now PowerPC) of the software I wanted to keep, both commercial and shareware. In some cases no new versions seemed to be available. Somewhat to my surprise most of my old software still works.
I did have trouble with three of my often-used items: DiskTop, a utility for seeing and changing file details, WebArranger for checking URLs, and Personal Backup, the simple but effective backup software I got with my Zip drive in 1995. These programs all seemed to have trouble with the large hard drive, or possibly the HFS+ formatting -- they claimed there wasn't enough space left on the hard drive to save, copy, or replace files, even though the drive had loads of free space. I found no newer versions of DiskTop or WebArranger. DiskTop seems still to work, though, after complaining, and I can "Save As" WebArranger files in a different folder each time. Personal Backup did have a low-cost update, and this works fine in the new environment. With the ease of use of Personal Backup I had gotten used to backing up my Performa after almost every session onto Zip disks. With no Zip, now I had gone a couple of weeks without being able to back up to a different drive, and was feeling exposed. I could have used the Ethernet connection to the Performa and used it as a backup, but it was still being used for other purposes, such as occasionally accessing Zip cartridges, floppies, and using the scanner. I didn't feel up to the conceptual confusion of using it for backup too.
Some other software compromises have had to be made. With the unsatisfactory state of StuffIt Deluxe 5.x, I stayed with 4.0 (adding the newest freeware StuffIt Expanders). This means I no longer have the True Finder Integration that I enjoyed in the past. And some applications have been entirely left behind.
Having to reinstall a number of applications, I was obliged to collect in one place all the software registration numbers from old invoices, letters, and cards. If I had kept this record updated as I went along it would have saved time. In some cases the new software picked up the registration info from preference files I had copied from the Performa.
I had ordered an Orange Micro SCSI card from their Web site, so I could use the external Zip drive I have, directly access my UMAX scanner, and add an internal SCSI drive for backup, but the card wasn't immediately available. The G3 manual mentions only adding internal SCSI drives, but I learned from Lou Dunham that ATA drives could be used instead. They are cheaper than SCSI drives too, and can be formatted with Apple's Drive Setup. I ordered an 8-gigabyte IBM drive from ProDirect (1-800-524-9952), along with a cable with connections for two drives, and installed it -- a very easy task with the G3's wide-swinging side door.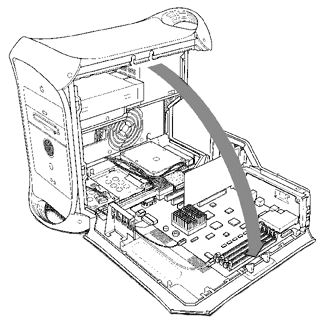 Opening one of the new Blue and White Power Mac G3 computers is a very easy task.
Didn't work. The two drives (the new one and the factory-installed 6 gigabyte Quantum ATA drive) conflicted, and the computer wouldn't boot at all. With Lou's encouragement and help from a PC-savvy person at work I learned that the second drive had to be configured as a "slave" to the first one's "master." Both were set as masters from the factory. Changing the IBM drive to a slave was a matter of removing one easily-accessible jumper and moving it to a new location on the drive -- after going to IBM's Web site to find out what jumpers were what. I installed OS 8.5.1 from the CD that comes with the G3, then Finder-copied everything from my first drive (named "Azul y Blanco") to my second (named "Azul Grande"). After the first copy, I use Personal Backup to automatically back up only files that have changed; unlike some other relatively low-cost software such as Retrospect Express it supports backing up onto hard drives. Routine backups now take only seconds.
Orange Micro
The Orange Micro Grappler 930U SCSI card finally arrived. Installation inside the G3 was a breeze, but removing all the external cables and reinstalling them, plus new ones, was not. My aching back!
Although my G3 did not come with an internal Zip drive, Iomega software is included. As soon as I connected my external Zip drive to the SCSI card and inserted a Zip disk, there it was on the Desktop.
It wasn't so easy with my UMAX Astra 610S (SCSI) scanner. The VistaScan software simply would not see the scanner, although SCSIProbe 1.5 said it was there, on bus 1. Evidently VistaScan was only looking on bus 0. A trip to the Orange Micro Web site (http://www.orangemicro.com/) showed a "Grappler Scanner" Control Panel. When downloaded and put into the Control Panels folder it allowed me to connect the scanner. Now VistaScan sees it and I can scan pictures with my old scanner.
One more piece of scanner-related software I have is TextBridge Pro, for Optical Character Reading. It proved much harder to get that to work. I could not even successfully open TextBridge: it hung at the registration screen, giving no choice but a forced reboot of the G3. Using Extensions Manager to turn off all extensions didn't help. But holding down the shift key at startup seems to have disabled more stuff, and I could then launch TextBridge. Of course, with no extensions it couldn't see the scanner. Finally, after three tries, TextBridge's registration screen gives you the option of getting rid of the registration screen forever. After that, I could launch TextBridge with extensions on, and it finally found the scanner.
The results: was it worth it?
Yes! My old Performa had a CPU running at 25 MHz. My G3 runs at 300 MHz. And in fact many operations on the G3 are about ten times faster than on the Performa. For instance, America Online 3.01 took about 32 seconds to launch on the Performa. On the G3 it takes 3 seconds. I re-installed many of my commercial applications from their CDs, using the PowerPC versions instead of the previous 68K Mac ones. Installing from CDs now often takes seconds instead of the minutes I am used to seeing. Applications such as Adobe Acrobat Reader now act decently. (Scrolling a pdf document on the Performa involved a frustrating wait until the screen re-drew.) Although Web communications are no faster, being limited by the modem speed, window re-draws and other operations that involve only the local computer are much faster, giving the experience of a faster Web.
My Performa was maxed out with 36 MB of RAM and 1 MB of video RAM. The G3 comes with 64 and 16. For now 64 MB of RAM seems quite adequate; maybe Apple is now shipping systems with enough RAM to start. With 16 MB of VRAM I can see "millions" of colors instead of "thousands" on my 14" monitor set for 640 x 480 pixels, and with a refresh rate of 72 cps. The monitor view with my old system seemed quite good, but the new one is better. The increased refresh rate eliminates all traces of flicker: the picture is rock-steady.
In addition I can now use things such as Sherlock to search, QuickTime 3.0 for movies, recent versions of RealAudio, and all the goodies that require the latest OS. As with my Mac Plus before it, I loved my Performa, and it gave me years of faithful service. I didn't miss too much what I didn't have. But now processes that took time on the Performa are almost instantaneous. I wouldn't want to return to the past.
Not everything that comes as standard with OS 8.5.1 is perfect. On my Performa I had several utilities that I liked. One was part of the CETools toolbox, which let me open programs or files from a menu under the Apple icon, from within any application. Favorites under the Apple menu in the new system pretty much duplicates that. I used to run HoverBar, which lets you launch or switch between applications, files, or folders with a mouse click on an icon bar which hovers on the screen. Apple's new Application Switcher does the same thing for open applications, but I found it not as convenient as HoverBar. Any application, file, or folder can be added to HoverBar's bar, whether it is in use or not, and launched or opened with a click. The bar can be set to "grow" to the left or right. It can be hidden using Command-Esc. And by holding down the Option key while switching applications, all others can be hidden. Apple's Application Switcher operates to hide the application switched from, but it doesn't hide them all unless you click several times. So I've installed the latest version (1.3.1) of HoverBar. It seems to work. However, as with my old system it shows icons for background processes that I don't really need to see, and there are more of them (Folder Actions, for instance) than of old.
Summary
The new, "Blue & White" G3s come with new technology and the absence of several pieces of old technology built in. For someone new to the Macintosh this would not be a major problem: they would just buy peripherals that would utilize the new technologies such as USB scanners, printers, modems, etc. For someone who has a number of "legacy" peripherals and doesn't want to replace them immediately, adapters and plug-in cards must be added. In a short time this too will not be a problem, but when the G3s were introduced these were in short (or no) supply. In my case it did cause a bit of bleeding, as well as requiring an outlay of several hundred more dollars. But this really is an astonishingly fast and capable machine. Things that used to take many minutes, such as software installations, rebuilding the Desktop file, and so on, now take a few seconds or minutes at most. The Web is faster; AOL is faster. Everything is faster. I am only beginning to take advantage of its abilities. I hope to continue doing so for a number of years.

---
Return to electric pi

Revised May 2, 1999 Lawrence I. Charters
Washington Apple Pi
URL: http://www.wap.org/journal/
---