Keeping Your Assets in Line
iView Corrals Images, Movies, Sounds, and Fonts
By Dennis R. Dimick
Washington Apple Pi Journal,
reprint information
How do you keep track of all your picture files, movies, fonts, and audio files? Are they overwhelming you? Can you retrieve them at will? Do you even know what you have?
I've been struggling with these questions for about 10 years since I began scanning my slides to Kodak Photo CDs. In years since I've digitized thousands of slides and negatives, and now I've got digital camera files gathering at almost 500 a month.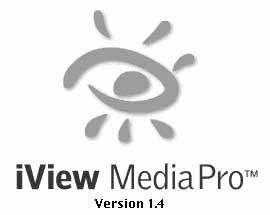 Catalog Leader: With its bargain price of $50, iView MediaPro may be the best deal going for Mac-based image cataloging and slideshow programs that run under both Mac OS X and older Mac OS systems.
All along I've been trying to find a suitable cataloging program to track this burgeoning archive. I've used Canto Cumulus, Extensis Portfolio, and Portfolio's precursor, Aldus Fetch. Years ago Kodak had a program called Shoebox that I tried. I've also tried Kudo Image Browser, ACDSee, and the cataloging feature in the shareware program Graphic Converter.
These tools have all worked fairly well, some much better than others. Yet in one way or another none of them has made me say, "This is a great program!"
The landscape for image databases constantly changes, as Canto and Extensis have both announced updated versions of Cumulus and Portfolio for release in 2002, and Apple just started giving away its new iPhoto program, with built-in image catalog and slideshow tools.
Regardless, I think I have found my "great program" for cataloging image and media files, at least for now. It's called iView MediaPro, an inexpensive offering from a small British company.
Quite possibly you haven't heard of iView MediaPro, as it's not available in stores here or from the catalog sellers. It's available only from the company website, http://www.iview-multimedia.com. A downloadable version costs $80, and a boxed CD version with printed manual costs $90. (iView used to cost $50 for the download version, but iView's developers have been busy adding features. The program was at version 1.1 when I bought, it's now up to 1.5.)
My iView MediaPro discovery came in the summer of 2001 while wandering the aisles at MacWorld Expo in New York, hoping to come across something new, wonderful, and different. From a tiny booth developer iView Multimedia Ltd. was giving out CDs with free 30-day trial versions. I was later able to convert to unlimited use by purchasing a serial number from iView's online store.
In With The New: IView MediaPro presents a slick interface under Mac OS X. Here is a catalog "thumbnail view" with a customized black background.
What's iView's Attraction?
Unlike Cumulus and Portfolio, iView runs only on the Mac. Because the others must operate in a "cross-platform" world, which in this case means their Mac (client) versions must conform to cross-platform standards of Windows-only image database server hosts, they don't always feel like Mac programs. They feel like compromises.
iView presents an elegant, smooth feel, where operations seem logical, and functions are intuitive. You can just open the program and start working. In a world where computer programs keep getting more feature-laden, complex, and often inscrutable, it's refreshing to find an easy-to-use program that works the way you think it should.
Yet, there is a price for iView's simplicity and elegance. In its basic form iView runs only on individual Macs, not in multi-client server setups like Cumulus and Portfolio. That said I've easily been able to access iView catalogs and the related files from a file-sharing enabled host Mac on my home Ethernet/AppleTalk network.
If you work in a large organization where several people at once need to access image databases across a network, Cumulus or Portfolio may be the answer. However, the Center for Digital Imaging in New York (http://www.cdiny.com) recently announced an imaging workflow and archiving system based on IView MediaPro called iPhotoArchive. (No relation to Apple's iPhoto.)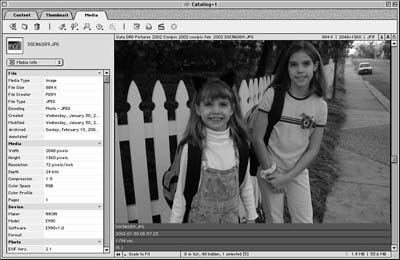 Under OS 9: Here's a look at iView's Mac OS 8.5-9 look. You can view any catalog asset full-size by double-clicking it in thumbnail view.
A final note on Apple's new iPhoto, which deserves its own assessment another day: iPhoto too is a Mac-only program, but runs only under Mac OS X. iView offers Mac OS X native operation but it also runs under Mac OS 8.5. Those of us who handle many pictures regularly depend on Adobe Photoshop every day, and as of this writing Photoshop does not run natively under Mac OS X. Until Photoshop becomes widely adopted under OS X, demand will remain for image databases such as iView that also run on Macs with older operating systems.
Pick Your Medium
Simplicity defines catalog creation with iView MediaPro: drag a folder of pictures onto the iView application icon and you have a catalog. Alternately, imagine you are preparing a complex project and need to track images of several types, Illustrator or Freehand files, QuickTime movies, Flash files, Acrobat PDF files, HTML files, QuarkXPress files, and related fonts. All you need do is open a new iView catalog and drag into the iView window the various files you need to track.
To edit any image or movie or graphics file in your iView catalog, just drag the item from the iView catalog window onto an alias of your editing program. You can also configure iView to open a catalog asset in its "creating" application; for example, double-click a Photoshop (.psd) format file and the file will open in Photoshop for editing.
If you later need to sort your catalog and look at only the JPEG images, or only the Quark or HTML files, iView's Catalog Index feature lets you search and sort more than 20 attribute subsets at will by file type, date created, size, and other aspects such as pathname.
QuickTime at Heart
iView does much more than track files. You can create customized slide shows and export QuickTime movies from your catalogs. You can batch convert images, audio files, and movies from one format to another. For example, if you have a catalog of TIFF files, iView will automatically convert them all to JPEG. Say you have a catalog of AIFF audio files that you need to convert to Windows WAV files. No problem.
iView can handle all these kinds of files and functions because it's tightly wedded to QuickTime, Apple's system-level multimedia technology. Any file type that QuickTime understands, iView understands. If you add file conversion plug-in filters to QuickTime, or Apple updates QuickTime to include support for new types of files, iView automatically supports those additions.
You can add transitions such as dissolves, wipes, radials, and barn doors to your iView slide show, and options are limited only by the variety of transitions inside QuickTime. iView comes with customizable built-in templates so you can present a slide show with one to 16 images on screen at once. You can also add voice annotations to your slide show.
If you want to export your image catalog as a standalone QuickTime movie you can also add any of the native image filters found in QuickTime such as color tints, embossing, or film noise. You also can choose any of the various image/movie compressors found in QuickTime, such as Sorenson, Cinepak, and JPEG.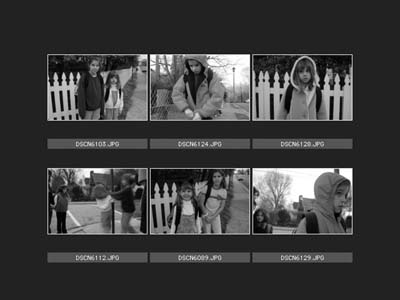 Export A Gallery: iView offers a slick "contact sheet" export option. You can configure the number and size of images, file format, and the background colors for your contact sheets.
With iView you can produce high quality custom-look contact sheets of your catalogs and export them in nearly any common graphics file format. You can also export your iView catalogs to HTML, ready for posting to a website. iView automatically generates the needed HTML page files for you and it creates both thumbnail and full-size image galleries.
More Slick Features
Little to big and back: When you have iView's contact sheet thumbnail view open, double-click on a thumbnail to see the whole image enlarged. To return to thumbnail view, just double-click the enlarged image again. This may sound like small potatoes, but none of the other image databases offer this simple feature.
Watch a folder: You can configure iView to automatically add images or other media files to a catalog as you create and save them. Just tell your image, graphics, or movie-editing program to save files to a folder you tell iView to "watch."
Built in captions: iView supports "EXIF" data written by digital cameras. For example, Nikon digital cameras write an array of information into each file as it is created: date, time, filename, camera type, shutter speed, lens opening and more. All this information automatically flows into iView when images are imported. The same holds for "IPTC" caption information written into native Adobe Photoshop files; all this data flows into iView automatically.
Script, Color, and Chinese: iView offers extensive program automation via Applescript; many scripts come with the program and also can be downloaded from iView's website. iView also has basic built-in image editing tools that let you crop, correct color, fix sharpness and contrast. iView comes with support for 10 languages built-in. This includes Chinese.
The program debuted as iView MediaPro 1.0 last year, and now is up to version 1.5. (It succeeds the earlier shareware program iView Multimedia.) The latest iView MediaPro revision adds integral tools for archiving data and catalogs to CDs via Roxio's Toast and to other drives on a network, and also supports direct import and cataloging from digital cameras and memory storage card adapters.
All in all, for Mac users iView MediaPro offers a great combination of features, versatility, and ease of use. The only native Mac OS X image database on the market, at $80 iVew even costs less than major competitors Extensis Portfolio and Canto Cumulus.
Iview Media Pro is available on the Web at: http://www.iview-multimedia.com
---
Pi member Dennis Dimick needed two DVDs to archive all the pictures produced by his digital camera in 2001. He can be reached by email at ddimick@aol.com.
Revision July 27, 2002